Description:
Dawnguard™ is the first official game add-on for The Elder Scrolls V: Skyrim® – the 2011 Game of the Year. The Vampire Lord Harkon has returned to power. By using the Elder Scrolls, he seeks to do the unthinkable – to end the sun itself. Will you join the ancient order of the Dawnguard and stop him?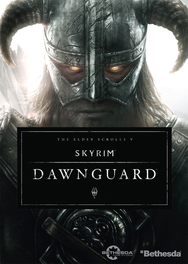 Included v1.7.7.0.6 update and crack.
Dawnguard™: Official Trailer:
[You must be registered and logged in to see this link.]
Key Features:
* New Weapons, Armor, Spells and Shouts. Join the Dawnguard and wield all new crossbows and craft your own arrows, bolts, and Dragonbone weapons. Use new weapons, armor, spells and shouts, including the Soul Tear shout that rips the souls from your enemies and turns them into your minions.
*Become a Vampire Lord. Side with the vampires and become a Vampire Lord yourself. Hover across the ground, turn yourself into bats, levitate your enemies as you drain their life, and more. The Vampire Lord features its own upgradable perk system.
*Werewolf Perks added. Playing as a werewolf now has its own upgradable perk system including Bestial Strength, Animal Vigor, and Savage Feeding.
*New Locations and Creatures. Choose from two new fortresses to upgrade and call home, Castle Volkihar or Fort Dawnguard. Discover lost valleys and travel to a new realm of Oblivion, the Soul Cairn. Battle new creatures including Death Hounds, Gargoyles, Armored Trolls, and all new vampires and dragons.
*Change Your Appearance. Visit Riftens Ratway and find the woman who can change your appearance, altering your face or hair.
System Requirements:
Minimum:OS:
Windows7/Vista/XP (32 or 64 bit)
Processor:
Dual Core 2.0GHz or equivalent processor
Memory:
2 GB RAM
Graphics:
Direct X 9.0c compliant video card with 512MB of RAM
DirectX®:
9.0c
Hard Drive:
6 GB HD space
Sound:
DirectX compatible sound card
Installation:
☺ Unzip the folder The Elder Scrolls V: Skyrim Update v1.7.7.0.6 Incl Dawnguard DLC.
☺ Copy all files from the folder The Elder Scrolls V: Skyrim Update v1.7.7.0.6 Incl Dawnguard DLC to your Skyrim installation main directory.
☺ Create a desktop shortcut to SkyrimLauncher.exe
☺ Start the Skyrim Launcher, And at the Launcher menu go to Data Files and make sure that Danguard.esm is checked.
☺ Play the game!

The Dawnguard quest line should be given to you once you start the game. If it doesn't immediately start up, Then either go talk to a guard or go through a door and it should be given to you shortly there after.
Torrent Download Link:
File contains: The Elder Scrolls V Skyrim Update v1.7.7.0.6 Incl Dawnguard DLC.zip
If you like the game then buy it.
----------
© 2013